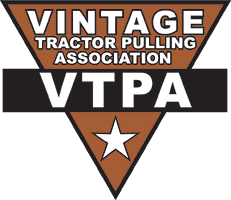 The Vintage Tractor Pulling Association (VTPA) is dedicated to preserving the history, heritage and culture of the sport of tractor pulling. The VTPA promotes events around that premise featuring the vehicles, style sand trends which are geared toward the past.
The sport of pulling has been around since 1929. By comparison, the sport of drag racing dates back to 1939 and has many years of preserved history in the form of vintage drag racing. Even though the sport of pulling is actually older, it has never had an organization dedicated to the preservation of that history. However, what has kept the sport alive is the grass-roots lifestyle.
Their participation revolves around the keeping the legacy alive of their fathers and grandfathers and even great-grandfathers did things, as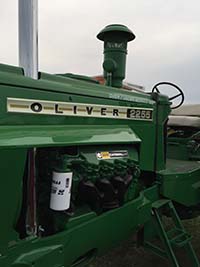 opposed to gaining money and fame. Pullers depend on old carbeurators instead of turbochargers and modern racing equipment.
Likewise the sport has had enthusiasts throughout the country who have pulled in competition or showcase their tractors similar to an antique car show. All are part of the vintage tractor pulling scene.
Within the sport, there are different types of vintage tractor pulling. Farm Stock antique tractors are more stock using OEM parts and are generally in competition with top-cut tires only.
Modified faster divisions are often defined by the legality of full cut tires, taking a stock tractor and adding higher performance parts leading to higher horsepower and faster speeds, just as enthusiasts have done in nostalgia drag racing for years. These modifications are now being included in the vintage tractor pulling scene today.
Another aspect of vintage tractor pulling is not just exclusively what is commonly known as antique tractors. It also includes a class that is known as Muscle Tractors. The rough guideline in the year cut off for Muscle tractors is 1985 as that year was the last year International Harvester stopped producing tractors before the Case IH merger.
The first Case IH tractor produced was the one of the first aerodynamically shaped tractors, as we see in the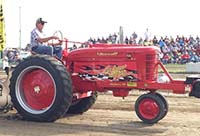 body shapes of today. Just as modern cars from today, they all basically look the same. Muscle tractors produce in the range of 100 horsepower or more straight out of the factory. These tractors were in the market throught the 1960's and 1970's. They include the new generation John Deere models such as the 4020 and 6030, Minneapolis Moline MG series, International Farmall 1066, the larger Fords, Allis Chalmers and Oliver models from that era.
The VTPA sanctions heritage pulling events and exhibition events throughout the region, preserving the legacy of vintage tractor pulling for future generations.